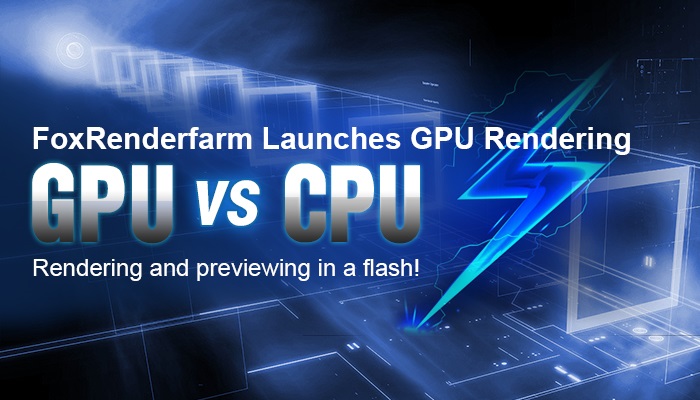 Fox Renderfarm Launches GPU Rendering
Rendering and previewing in a flash!
The craze for Marvel's superhero movie Deadpool swept over the world; As the first full CGI realistic human feature film in Asia, Legend of Ravaging Dynasties dominated the headlines once the trailer came out. These two movies were rendered with GPU rendering engines.
Obviously, GPU computing card and GPU rendering engines are gradually used in film production. It is a good start!
Now, as the leading render farm in the industry, Fox Renderfarm launches GPU rendering. Let's start a free trial with Fox Renderfarm's GPU rendering.
Let's get it started!
What're the differences between GPU and CPU?
A simple way to understand the difference between a CPU and GPU is to compare how they process tasks. A CPU consists of a few cores optimized for sequential serial processing, while a GPU has a massively parallel architecture consisting of thousands of smaller, more efficient cores designed for handling multiple tasks simultaneously.
Adam Savage and Jamie Hyneman made a painting demonstration to show the difference between CPU and GPU:
Mythbusters Demo GPU versus CPU
What's the advantage of GPU Rendering?
In the field of graphics rendering, not only films and animations but also CG art, GPU with its computing ability and architecture specially designed for graphics acceleration provides the users with a more efficient rendering solution, namely the GPU rendering solution. GPU rendering has a great advantage of fast speed and low cost. Moreover, GPU rendering becomes more and more available now, lots of works with high quality rendered with GPU has come out. GPU rendering tends to be popular with users at home and abroad.
Thinking of the CPU as the manager of a factory, thoughtfully making tough decisions. GPU, on the other hand, is more like an entire group of workers at the factory. While they can't do the same type of computing, they can handle many, many more tasks at once without becoming overwhelmed. Many rendering tasks are the kind of repetitive, brute-force functions GPUs are good at. Plus, you can stack several GPUs into one computer. This all means GPU systems can often render much, much faster!
There is also a huge advantage that comes along in CG production. GPU rendering is so fast it can often provide real-time feedback while working. No more going to get a cup of coffee while your preview renders chugs away. You can see material and lighting changes happen before your eyes.
GPU Renderer
Redshift is the world's first fully GPU-accelerated, biased renderer and it is also the most popular GPU renderer. Redshift uses approximation and interpolation techniques to achieve noise-free results with relatively few samples, making it much faster than unbiased rendering. From rendering effects, Redshift can reach the highest level of GPU rendering, and render high-quality movie-level images.

Blender Cycles is Blender's ray-trace based and unbiased rendering engine that offers stunning ultra-realistic rendering. Cycles can be used as part of Blender and as stand-alone, making it a perfect solution for massive rendering on clusters or at cloud providers.

NVIDIA Iray is a highly interactive and intuitive, physically based rendering solution. NVIDIA Iray rendering simulates real-world lighting and practical material definitions so that anyone can interactively design and create the most complex of scenes. Iray provides multiple rendering modes addressing a spectrum of use cases requiring real-time and interactive feedback to physically based, photorealistic visualizations.

OctaneRender is the world's first and fastest GPU-accelerated, unbiased, physically correct renderer. It means that Octane uses the graphics card in your computer to render photo-realistic images super fast. With Octane's parallel compute capabilities, you can create stunning works in a fraction of the time.

V-Ray RT (Real-Time) is Chaos Group's interactive rendering engine that can utilize both CPU and GPU hardware acceleration to see updates to rendered images in real time as objects, lights, and materials are edited within the scene.

Indigo Renderer is an unbiased, physically based and photorealistic renderer which simulates the physics of light to achieve near-perfect image realism. With an advanced physical camera model, a super-realistic materials system and the ability to simulate complex lighting situations through Metropolis Light Transport, Indigo Renderer is capable of producing the highest levels of realism demanded by architectural and product visualization.

LuxRender is a physically based and unbiased rendering engine. Based on state of the art algorithms, LuxRender simulates the flow of light according to physical equations, thus producing realistic images of photographic quality.
GPU Computing Card Parameter Table
Now Fox Renderfarm is applicable to Redshift for Maya and Blender Cycles. There are more than 100 pieces of NVIDIA Tesla M40 cards in Fox Renderfarm cluster, each server has 128G system memory with two M40 computing cards. Welcome to Fox Renderfarm to experience the super fast GPU cloud rendering !
---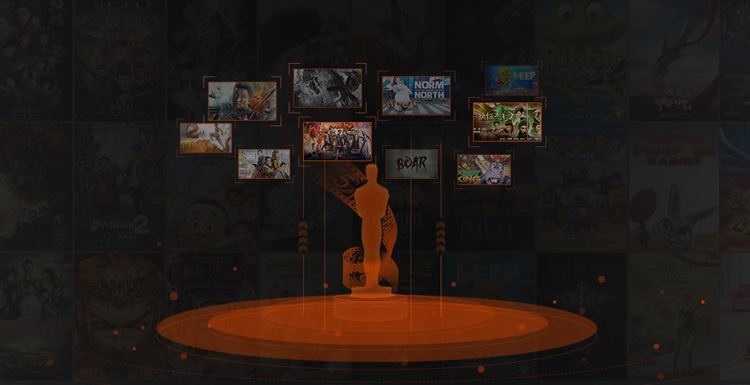 Why Choose FoxRenderfarm?
Fox Render Farm is becoming one of the most notable and credited online render farms in the CG industry. We provide a web-based online platform for users and have more than two thousand render nodes. Therefore, with us, it does not matter where you are present – as long as you are connected to the internet, you can access and enjoy the 24/7 non-stop cloud renderingservices that we provide, without any fail.
Fox is extremely user-friendly and hence, rendering tasks can be submitted to our system by following some easy steps. The user's online system and control panel provided by the Fox Render Farm allows you to monitor the overall rendering progress in real-time. Queuing is not required, as the final rendered file will be presented as soon as the process is finished. Our users can get their HD and Ultra HD animations rendered at full quality through Fox's system.
With nearly two thousand workstations, the Fox Render Farm is equipped with brilliant hardware specifications. Every functional node has an Intel Xeon I7 3770K processor and an E5645 processor. The I7 3770K processor has the memory capacity of 16 GB while the Intel Xeon processor's memory varies between 24 and 64 GB. The local network that we use is Infiniband, with a high speed of 20 Gbps and it utilizes the Windows 7 operating system.
Software such 3d Max, Maya, Softimage, Blender and C4D are supported by our rendering farm as well. It also supports render engines like V-Ray, Mental Ray and Final Render.
The cloud rendering service that we offer is our biggest strength. Render farm are usually a structure built on interconnected PCs, which share their memory and processing capabilities to efficiently process CGI rendering. Nodes that are utilized; are advanced in nature; and thus, without too much manual input and manipulation, brilliant computer generated graphics and imagery can be created. Render farms are also highly efficient and that is why, at CG Studios, we use them to examine graphic and special effects.
Traditional render farms are great, but they do not come without their limitations. Space constraints, high maintenance requirements, and expenses associated with these farms could be a huge problem for smaller companies. cloud renderingensures that the performance of the traditional render farm are amalgamated with lesser costs and user friendly system in order to provide smaller companies with the best rendering option.
---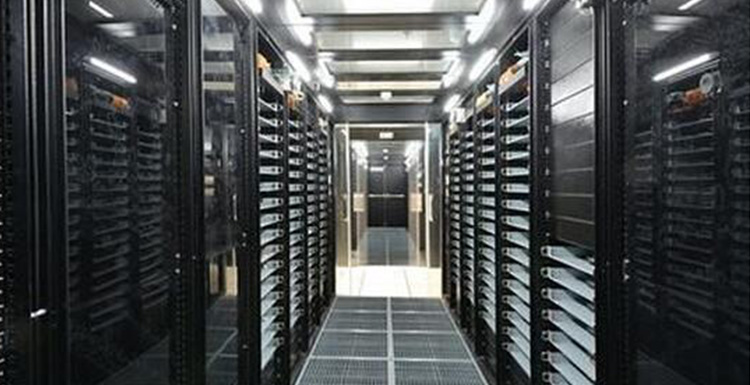 The Top Benefits of Online Render Farms
Having a render farm is essential for computer graphics studio owners today. Technology in the field is advancing at a rapid rate and having the resources to keep up with client requirements is something that CG studio owners should consider.
Rendering is one of the main duties that a computer graphic designer is responsible for. Having a proper system and software that performs complex rendering tasks can prove impractical sometimes due to the extensive costs and management it requires.
However, the services of an online or a cloud render farm can prove invaluable. Here are some reasons:
Easy To Use
Online cloud rendering services are not only a practical option, but they are also very easy to use. Software management and maintenance are handled by service providers thus allowing your time to invest in projects that are more lucrative. All you have to do is access to the cloud render farm through your computer!
Time-Saving and Cost Effective
Compared to the time and money it will take for you to do all the rendering yourself, professional online rendering can help you save company resources that can be put to better use elsewhere.
Realistic Visual Effects
The render farm is software based on complex programming that allows programmers to generate effective visual effects. Outsourcing for these services yields highly efficient, updated and realistic visual effects. Expert engineers and programmers use the latest rendering techniques to create realistic visual effects.
Efficient Delivery
Converting the final project in accordance with your format and organizational requirements is a difficult process. However, external rendering services can package and distribute your project according to your required specifications.
At Fox Renderfarm we offer pioneering self-service cloud computing for rendering, research into cluster rendering, parallel computing technology, and computing services for cloud rendering.
---
Key Words
MILESTONES
|
Fox Renderfarm
|
Desktop Client
|
Blender
|
Bollywood films
|
Hum3D Contest
|
NVIDIA
|
Silkroad Digital Vision
|
Malaysian Animated Films
|
Indiajoy
|
Art Competitions
|
Architectural Visualization
|
CGarchitect Architectural 3Dawards
|
Best cloud rendering services
|
Render cloud
|
VFX
|
Upin & Ipin
|
Green Book
|
Fox Renderfarm Interview
|
Mission Mangal
|
Kre8tif!
|
Fox Renderfarm Mini Program
|
CG
|
CG Tech Summit Malaysia
|
Zhang Yimou
|
film works
|
cloud rendering
|
Golden Horse Award
|
Shadow
|
SIGGRAPH Asia 2018
|
Morrigan Flebotte
|
VWArtclub Annual *Contest
|
animation works
|
Asswad Mouhamad
|
IMax Studio
|
Boonie Bears
|
Renderosity
|
Gary S. Kennedy
|
Evermotion Challenge 2018
|
Brian Beaudry
|
Alita: Battle Angel
|
Bobby Bala
|
Mohit Sanchaniya
|
Katapix Media
|
Flying Car Productions
|
Razer
|
The Shipment
|
FoxRenderfarm
|
CG Tech Summit
|
Alpacalypse Productions
|
halloween
|
Hum3d Survial Car Challenge
|
Federico Ciuffolini
|
Ralf Sczepan
|
Iavor Trifonov
|
Clarisse
|
CGTS Malaysia
|
Isotropix
|
C4D
|
Tomasz Bednarz
|
V-Ray
|
Cinema 4D
|
MAXON
|
siggraph caf
|
Evermotion challenge 2017
|
CGTrader Space Competition
|
film of the year
|
Le Anh Nhan
|
Planet Unknown
|
Fox Renderfarm 2017 Achievements
|
CSFF
|
Julio Soto
|
boar 2017
|
Deep
|
SIGGRAPH Asia 2017
|
Chris Sun
|
Glass Cage
|
Fox Renderfarm
|
Making Life of Bri' n Chris
|
anthem studios
|
The Rookies
|
Peter Draper
|
Makuta VFX
|
Baahubali 2
|
CG Competition
|
enchantedmob
|
CG Studios
|
Academy Awards
|
CGVray
|
weeklycgchallenge
|
SketchUp
|
siggraph 2017
|
Chris Buchal
|
SIGGRAPH Asia
|
LightWave
|
Indigo Renderer
|
Rafael Chies
|
V-Ray RT
|
CPU Rendering
|
NVIDIA Iray
|
Chaos Group
|
OctaneRender
|
Redshift
|
STAR CORE
|
CICAF
|
VR
|
Mr. Hublot
|
Ribbit
|
GPU Rendering
|
Linux
|
Monkey Island
|
LuxRender
|
HPC
|
Render Farm
|
Life of Bri
|
WORLD LAB
|
Michael Wakelam
|
3D Rendering
|
Online Render Farm
|
Alibaba
|
Baahubali
|
阿里雲
|
VAX
|
Malaysia
|
Aliyun
|
2015 Hangzhou Computing Conference
|
Oscar
|
SIGGRAPH
|
CGTrader
|
Kunming Asia Animation Exhibition
|
Evermotion
|
RenderMan
|
Categories
---
Fox Renderfarm News
---
Fox Renderfarm Projects
---
Fox Renderfarm Lectures
---
CG Challenges
---
Top News
---
Blog
---
Fox News
---
Fox Talk
---
Trending
---
Recent News List
---
Call For Submissions: FGT3D 'Hero' Challenge
2020-07-08T06:31:02.293Z
---
Lomas Post, One of Mexico´s Top Ad Agencies, Won the May Winner of Fox's Got Talent
2020-07-06T06:39:14.836Z
---
SIGGRAPH Asia 2020 Goes Virtual
2020-07-03T11:18:09.554Z
---
How to Build a Realistic Character in Maya
2020-07-03T08:05:07.636Z
---
Call for Submissions: SIGGRAPH Asia 2020 Computer Animation Festival
2020-07-02T08:55:12.838Z
---
E-Meet Fox Renderfarm @ Annecy 2020 Online
2020-06-19T08:27:20.677Z
---
How to Build A Magnificent Space Carrier in UE4
2020-06-12T09:33:11.012Z
---
Creating a Magical Library Inspired by Harry Potter in 3ds Max
2020-05-25T08:00:01.021Z
---
Creating a Hyper Futuristic Robot Under an AI Generative System in Blender
2020-05-20T07:40:06.217Z
---
Partners
Medias